Ah, home. That place is like no other place in the world. The place where your family – and heart – lives. The place you can't wait to get to at the end of the day, so its familiarity and comfort can help you relax from stressful days. Yes, home is a special place for you no matter who you are, no matter if it is big or small.
But for some of the richest people on the planet, home means more than just comfort – it means luxury, interior design, state-of-the-art security, all the modern appliances, facilities beyond a normal house's scope, and I can't imagine it doesn't mean at least a little to show off.
Do you have a picture in your head of what the most expensive house in the world would look like? Well, scroll on to find out exactly how it looks!
1. Buckingham Palace | London, UK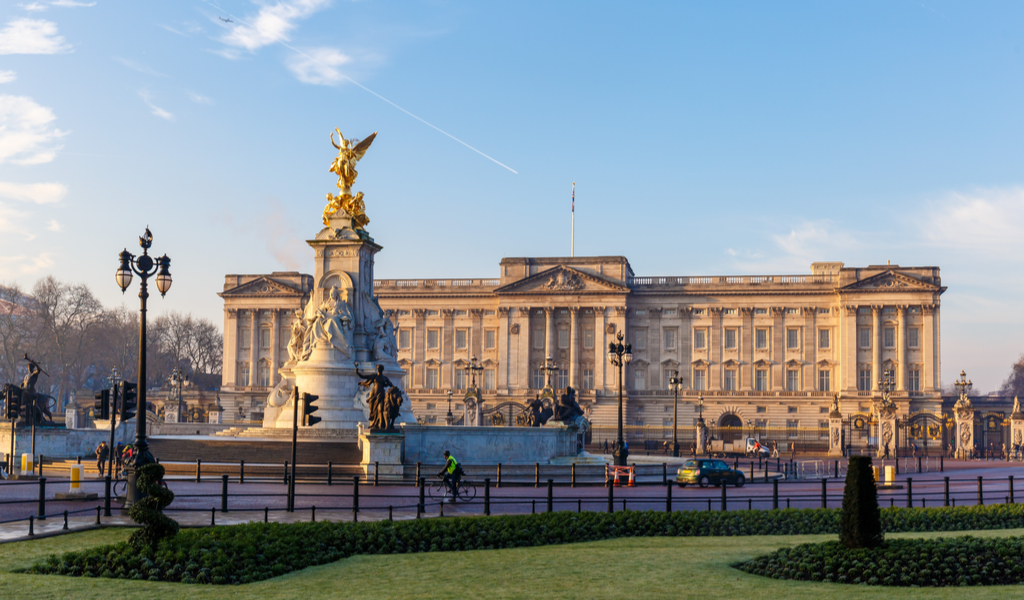 Value: $1.55 billion
Is it any surprise that the beloved Queen of England is the current resident of the most expensive house in the world? The Buckingham Palace, owned by The Crown, consists of 775 rooms, 188 staff rooms, 52 royal guest bedrooms, 92 offices, 78 bathrooms, and 19 staterooms and is said to be valued at around $1.55 billion. That's certainly one "roomy" house! We're not even sure the people who live there can navigate the entire property without a map!
2. Antilia | Mumbai, India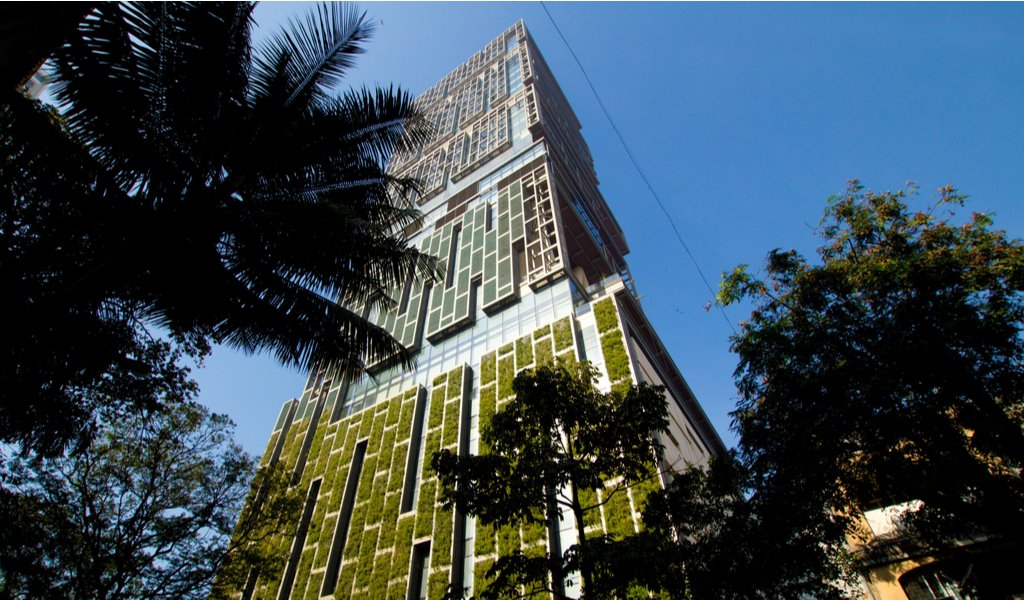 Value: $1-2 billion
The Buckingham Palace may be the most expensive house in the world, but since it does not actually belong to Queen Elizabeth, Mukesh Ambani's 400,000 square-foot Antilla would be the private residential property with the highest value in the world.
The owner of India's Reliance Industries, Mukesh Ambani, is the richest man in India and one of the top richest men in the world. Of course, that's no surprise if his house is anything to go by. Located in one of the world's most expensive addresses, Altamount Road in Mumbai's Cumballa Hills, the house consists of 27 bedrooms and ceilings that are as high as a regular two-story building. It was built by Australian construction company Leighton Holdings based on designs by Chicago-based architects Perkins and Will. The impressive structure is said to be able to survive an earthquake with a magnitude of 8 on the Richter scale. Adding to the value of the property, Antilla has six floors just for cars. Vehicles like Ambani's Mercedes Maybach, costing some INR 5 crore, hang out here.
3. Villa Leopolda | Cote D'Azure, France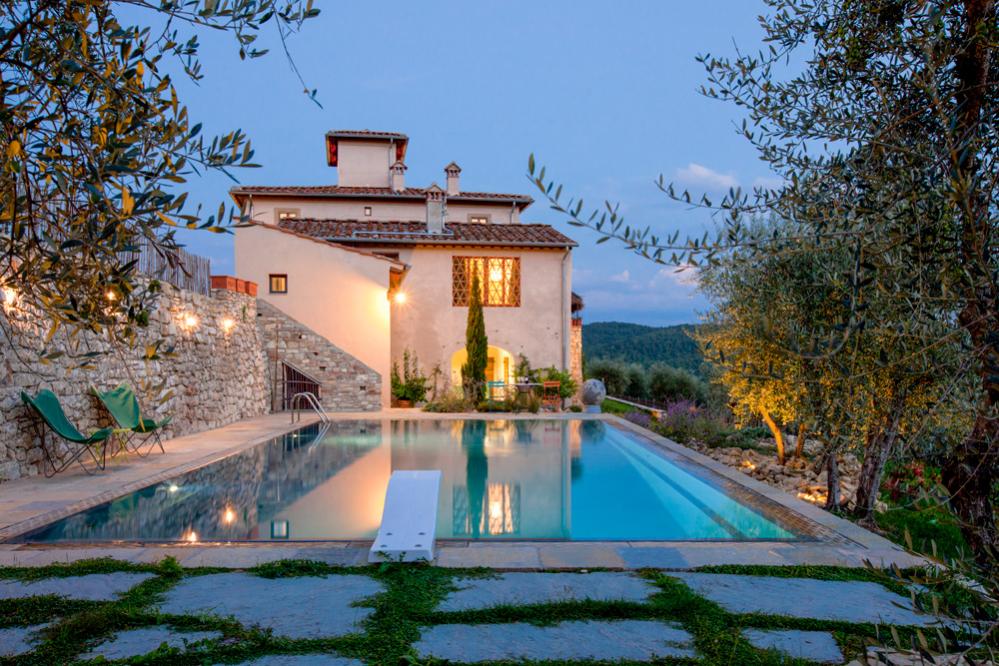 Value: $750 million
Lily Safra is a Brazilian philanthropist and socialite, as well as the widow of Lebanese banker William Safra. The billionaire is also the owner of a 50-acre estate that features a separate guest house, an enormous greenhouse, an outdoor kitchen, a swimming pool and pool house, and even a helipad! You can get a glimpse of Villa Leopolda in the Alfred Hitchcock classic To Catch a Thief, as it was used as a set during the filming of that movie.
4. Villa Les Cèdres | French Riviera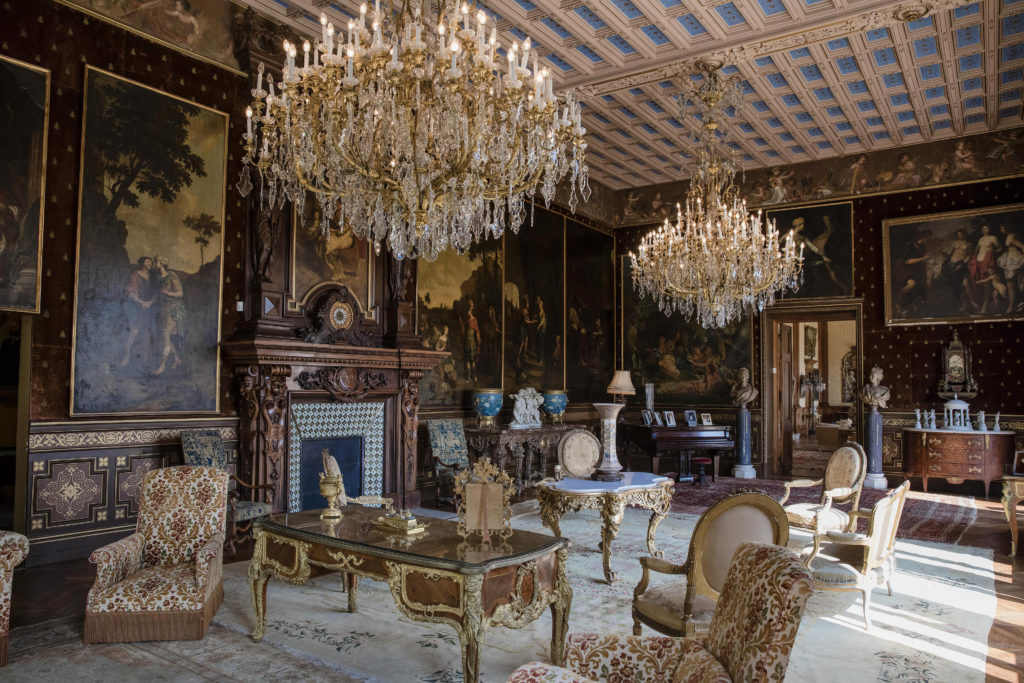 Value: $400 million
Set on the French Riviera, the Villa Les Cèdres is a home fit for a king that was actually built for a king. Back in 1830, the original resident of the 18,000 square-foot house was the King of Belgium. The property consists of 14 bedrooms, an Olympic-sized swimming pool, a chandelier-lit ballroom, and several grand sitting rooms. Décor like 19th-century ornately-framed portraits, a bronze statue of Athena, and gorgeous woodwork give the house its unique personality. A nature-lover would fit right into this home, with its man-made Amazonian pond and 30-horse stable. It even comes with a library that is home to about 3000 books on flora and naturalism (including an 1640 edition of a botanical codex)!
5. Four Fairfield Pond | Sagaponack, New York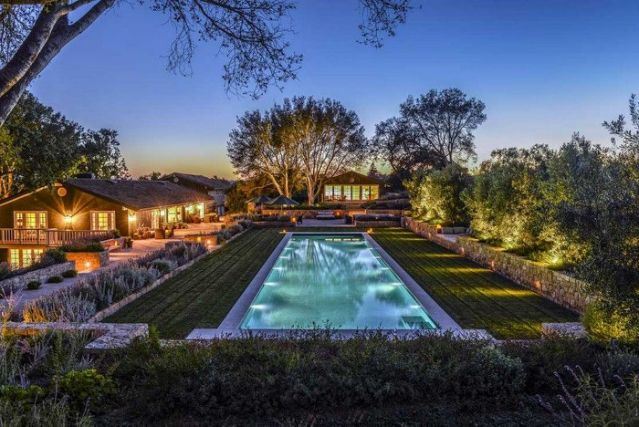 Value: $248.5 million
The Renco Group is a holding company with investments in the auto manufacturing and smelting industry. The owner of this group is Ira Renner, who is also the owner and resident of Four Fairfield Pond in New York. This 63-acre house comes with 29 bedrooms, 39 bathrooms, a basketball court, bowling alley, squash courts, tennis courts, 3 swimming pools, and an ornate dining room that spans 91-square feet. And that's not all, because the property even has its very own power plant!
6. Ellison Estate | Woodside, California
Value: $200 million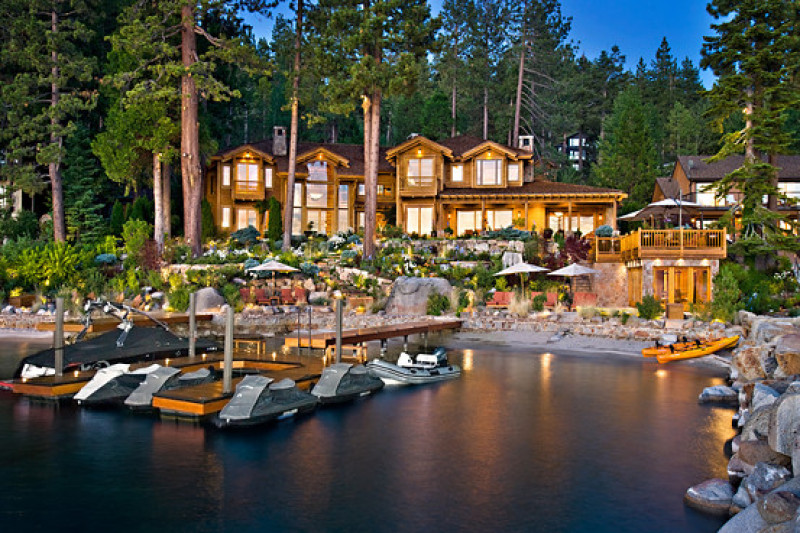 Founder and former CEO of Oracle, Larry Ellison, lives in a 23-acre property in Woodside, California named Ellison Estate. He is a keen collector of real estate and has been nicknamed the "nation's most avid trophy-home buyer". This particular compound comes with 10 buildings, a man-made lake, a koi pond, a tea house, and a bathhouse. He bought it in 1995 for $12 million, but 9 years and $200 million later, the design and remodel based on a 16th-century Japanese Imperial palace was finally complete!
7. Palazzo di Amore | Beverly Hills, California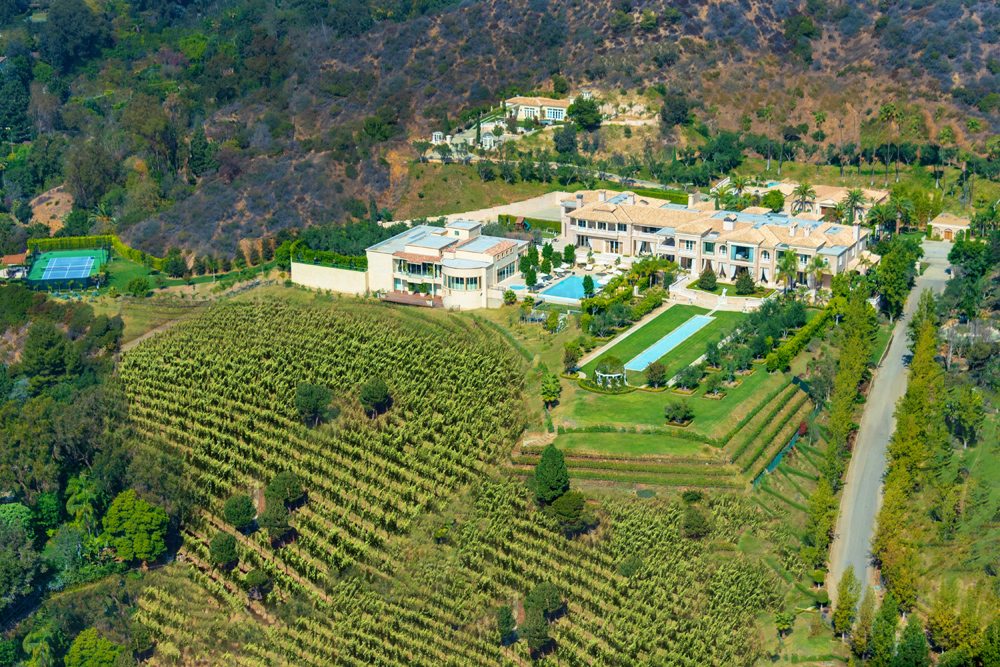 Value: $195 million
Palazzo di Amore is a 53,000 square-foot property that belongs to real estate entrepreneur and American politician Jeff Green. The mansion features 12 bedrooms and 23 bathrooms and comes with a theater, waterfalls, tennis courts, swimming pools (including reflecting pools), and garage with a 27-car capacity. Another fun thing about the Mediterranean-style building is that it has a party pad with a ballroom and even a revolving dance floor!
8. Seven The Pinnacle | Big Sky, Montana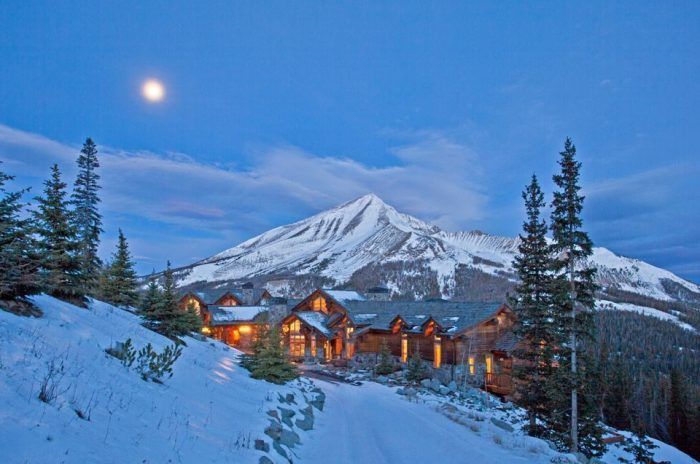 Value: $155 million
Seven the Pinnacle is a $155 million house that belongs to American songwriter, record producer, real estate mogul, and timber magnate Tim Blixseth. It is located on a section of the enormous Yellowstone Club of Big Sky, Montana – a private ski and golf community catering to the mega-rich. As one would expect, the house has all the luxuries one could dream of, including but not limited to: heated floors, multiple pools, a gym, wine cellar, and even its own ski lift.
9. Xanadu 2.0 | Medina, Washington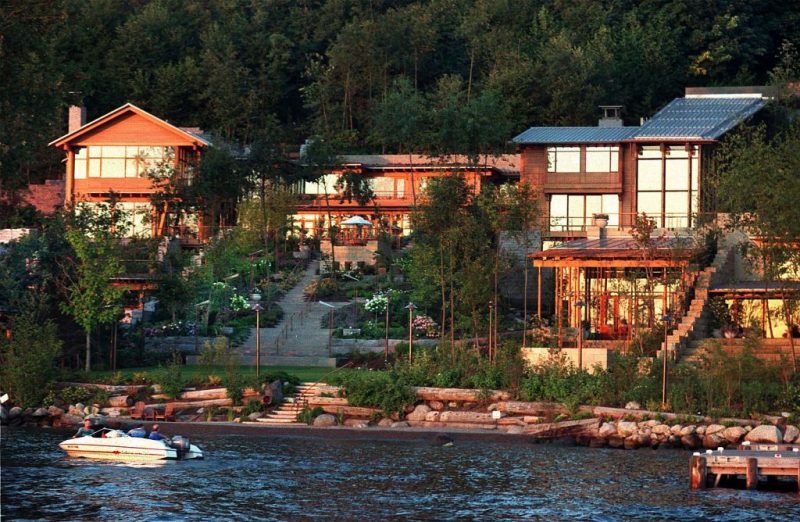 Value: $125.5 million
Being one of the richest men in the world – and making that fortune on the back of being a tech mogul – one would expect nothing short of the most luxurious and high-tech homes to be where Bill Gates lives and the house he shares with his wife, Melinda Gates, delivers on all fronts!
The 66,000 square foot property named Xanadu 2.0 is situated in Medina, Washington. The construction of it alone cost $63 million and took 7 years to complete. The result, of course, was a magnificent mansion that was "earth-sheltered" – which means it's built in a way that it incorporates its natural surroundings to regulate temperature more efficiently. If that's not high-tech enough, the artwork adorning the walls can be regularly changed with the press of a button! Other than this, the property is home to a 2,100 square-foot library (with a dome room, 2 secret bookcases, and a hidden bar), as well as a separate 3,900 square-foot building that has a 60-foot pool.
10. 18-19 Kensington Palace Gardens | London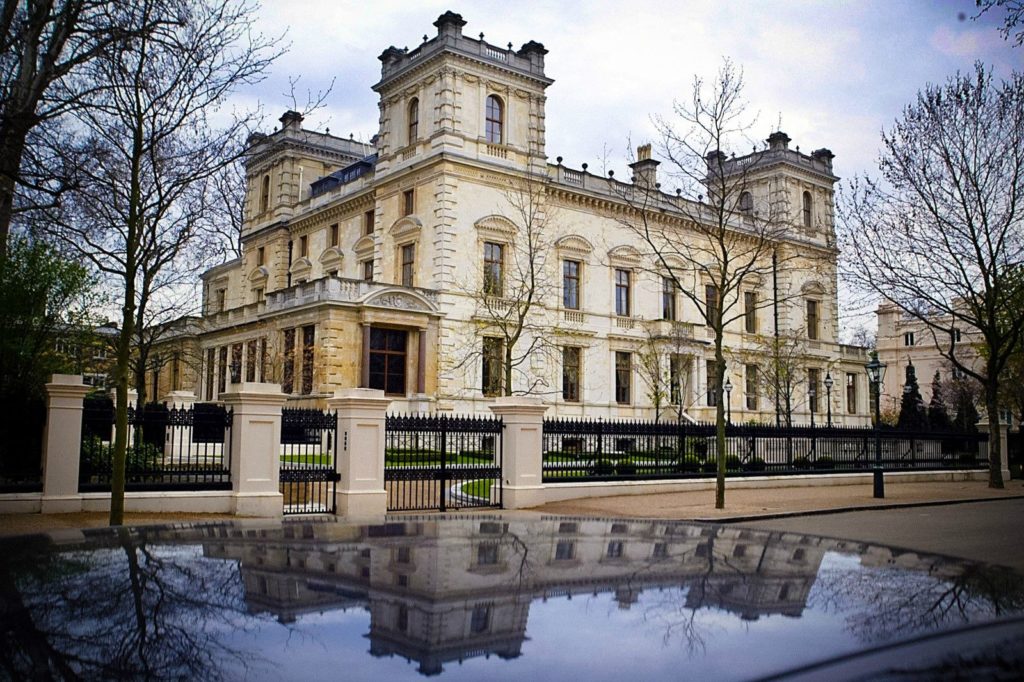 Value: $128 million
The world's largest manufacturer of steel, Arcelor Mittal, is owned by billionaire and Indian business tycoon Lakshmi Mittal. The steel magnate lives in a gorgeous mansion located in London's Kensington Gardens, a tree-lined avenue about half a mile long in the midst of the city's embassy land – also known as Billionaire's Row. The house that occupies two addresses features 12 bedrooms, Turkish baths, an indoor pool, and a car park big enough to hold 20 cars.
The house's history of influential owners dates back to the early 1900s with the de Rothschild family being its most famous owners. It was then owned by the Free Poles from 1939 to 1945, passing on to art dealer David Khalili from 1995 to 2001, and Formula 1 chief Bernie Ecclestone from 2001-2004. Mittal has lived at the house dubbed "Taj Mittal" since then and is also neighbors with Prince William and Kate Middleton as well as the sultan of Brunei!